Can't believe it's almost here.
THE
big day.
Our 3rd Ultimate Rubber Stamping Demo Day.
This Saturday 4th Dec 10am - 4pm.
This is a fab day full of
FREE
demos,
FREE
refreshments, and a
FREE
prize draw.
All the demonstrators are very excited and have been busily prep'ing wonderful samples and ideas to show you on Saturday. We were due to have 7 demonstrations going on but unfortunately Kim Reygate is snowed in and it's very unlikely that she'll make it :(
check out the snow where she lives
We'll miss you Kim, finger's crossed there's a dramatic change and you can make a surprise appearance!
If you want a taster of what it's all about - check out our blog post about
last years Ultimate Rubber Stamping Demo Day
.
We are also holding some classes on the too. Clare "Molly Blooms" Rowlands will be running a 2hr class at 10:30am and repeating it at 13:30pm. It's just £15 and in addition, you get a brand new, never seen before, stamp included in that fee. Clare's popped a sneak peak of the project on her
blog
:
Here's more info about Saturday listing all our talented, creative ladies demo'ing for you on the day (and also some info about our 12 hour Mega Sale day on 23rd Dec)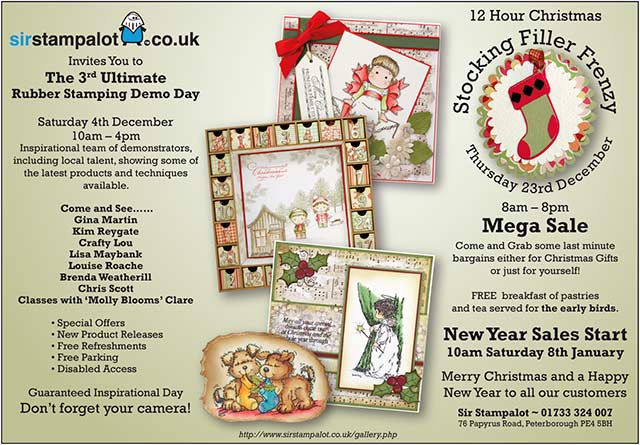 The unit we are hiring for Saturday is a very short distance from the shop (shop is 76 Papyrus Road and demos will be held at 86 Papyrus Road), you can see the relation of the two locations here:
And here's a link to
how to find us
if you haven't been to Sir Stampalot, Peterborough before.
We are unsure how warm it will be in the unit where the demos will be held so please wrap warmly. Hot tea and coffee will be available on tap throughout the day - along with lots of lovely munchies!
There's also a chance to win a goodie bag. Entry is free. Just copy and paste this form below into a word document, fill it out, print it out and then pop it in the box in the shop on Saturday (4th Dec). Winner will be drawn at the end of the day and notified by phone if not present:
========================================================================

FREE PRIZE DRAW
at the 3rd Ultimate Rubber Stamping Demo Day on Saturday 4th Dec.
Copy and Paste to word document, fill it out, print it out and pop it in the special box in the shop for your chance to win the goodie bag on display on the day.
Name: __________________________________________________________________
Phone Number : __________________________________________________________
Email: ___________________________________________________________________
Valid Instore on Saturday 4th Dec Only
========================================================================
Good Luck everyone and hope to see you Saturday. Safe journey.
- janice
xxxx